A once-in-a-lifetime opportunity
Kelsey is a precious talent, with a real flair for distillation, a dedication to her craft and a self-assurance and poise that completely belie her age.
Science graduate Kelsey started working with us in 2014 as a Technical Graduate in our Girvan Distillery laboratory, routinely analysing our fermentations and distillation profiles.
"I really enjoyed it, but wanted to use my sensory palate to measure the flavours I was analysing for," she explains.
"I volunteered for the nosing panel and when I started picking out flavours in the un-aged new make spirit, I was hooked."
The rarest of jobs
Kelsey's talent for nosing was quickly spotted and in 2018, the 26-year old was appointed Apprentice Malt Master – becoming one of the youngest women in the world to achieve this rarest of jobs.
"I'd only been at the company a few years, so getting to this point has been quite fast paced and incredibly exciting," she says.
Kelsey's learning her craft under the careful stewardship of David Stewart MBE, one of the longest-serving malt masters in the industry. She also works closely with our Master Blender Brian Kinsman on brands including Glenfiddich, Monkey Shoulder and Tullamore D.E.W.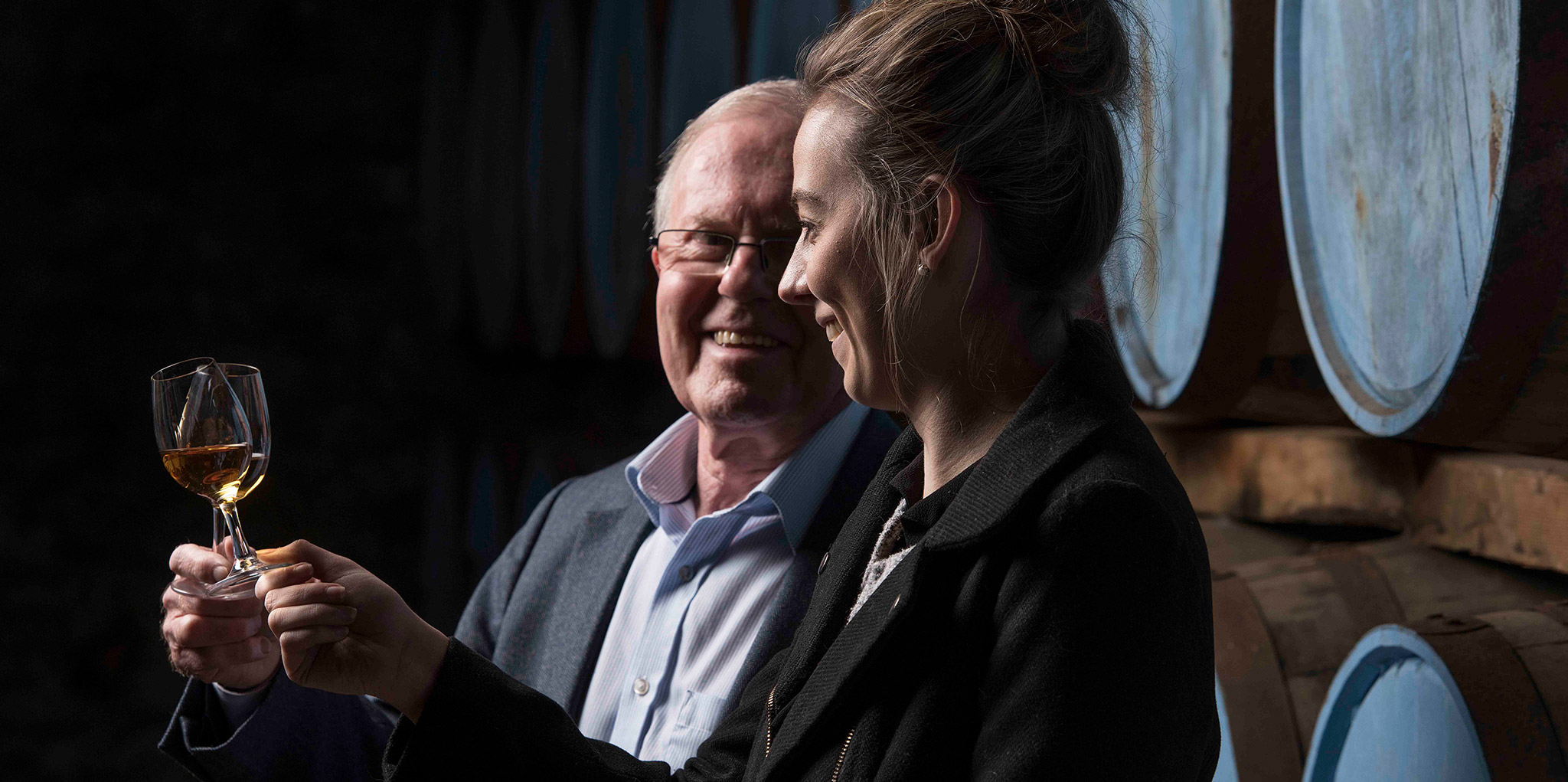 Her main responsibilities include ensuring excellence and consistency in each bottle of The Balvenie, and maintaining the maturing spirit housed at our Dufftown Distillery.
Building up knowledge
As Apprentice Malt Master, she also spends a large part of her day nosing whiskies to build up her knowledge and setting up blends for our core ranges.
"I can be nosing up to 30 whiskies a day, nosing the spirit, specific flavour profiles and variants," she explains.
A single glass of whisky can contain up to 150 aromas and Kelsey is careful about what she eats or drinks before the sampling process.
"I have to forego my morning coffee and don't wear any perfume to work anymore. But that's a small price to pay for this once-in-a-lifetime opportunity!"
A real privilege
"Hand selecting the casks for The Balvenie 50 range with David has been a real privilege. From spending time in the warehouse, drawing samples from some of our finest whisky casks, to trialling different blend combinations in the sampling room, I've been involved in the entire whisky making process.
"Sometimes I still have to pinch myself and think: four years ago I was studying biological sciences and now I'm sharing a blending table with David and Brian – two of the most important figures in the Scotch whisky industry."
Patience and time
"I'm naturally quite impatient to see results, but I'm learning that patience and time are the two biggest things you need on your side when doing cask finishes. Nothing happens overnight, that's for sure.
"In the next few years I'd like to create new liquids that people enjoy as much as they do the current The Balvenie range.
"My personal legacy is focusing on perfecting how to blend The Balvenie whisky and ensuring the quality of the spirit's as good as it's always been.
"We also have a few innovations up our sleeve that are coming to light and I'm looking forward to releasing those in a few years' time."